AMIREIA 200S
Amireia 200 S is an extruded version of cattle urea, which has slow degradation and 200% crude protein. A complete protein additive, efficient and economical, which meets the requirements of large makers and farmers at a worldwide level.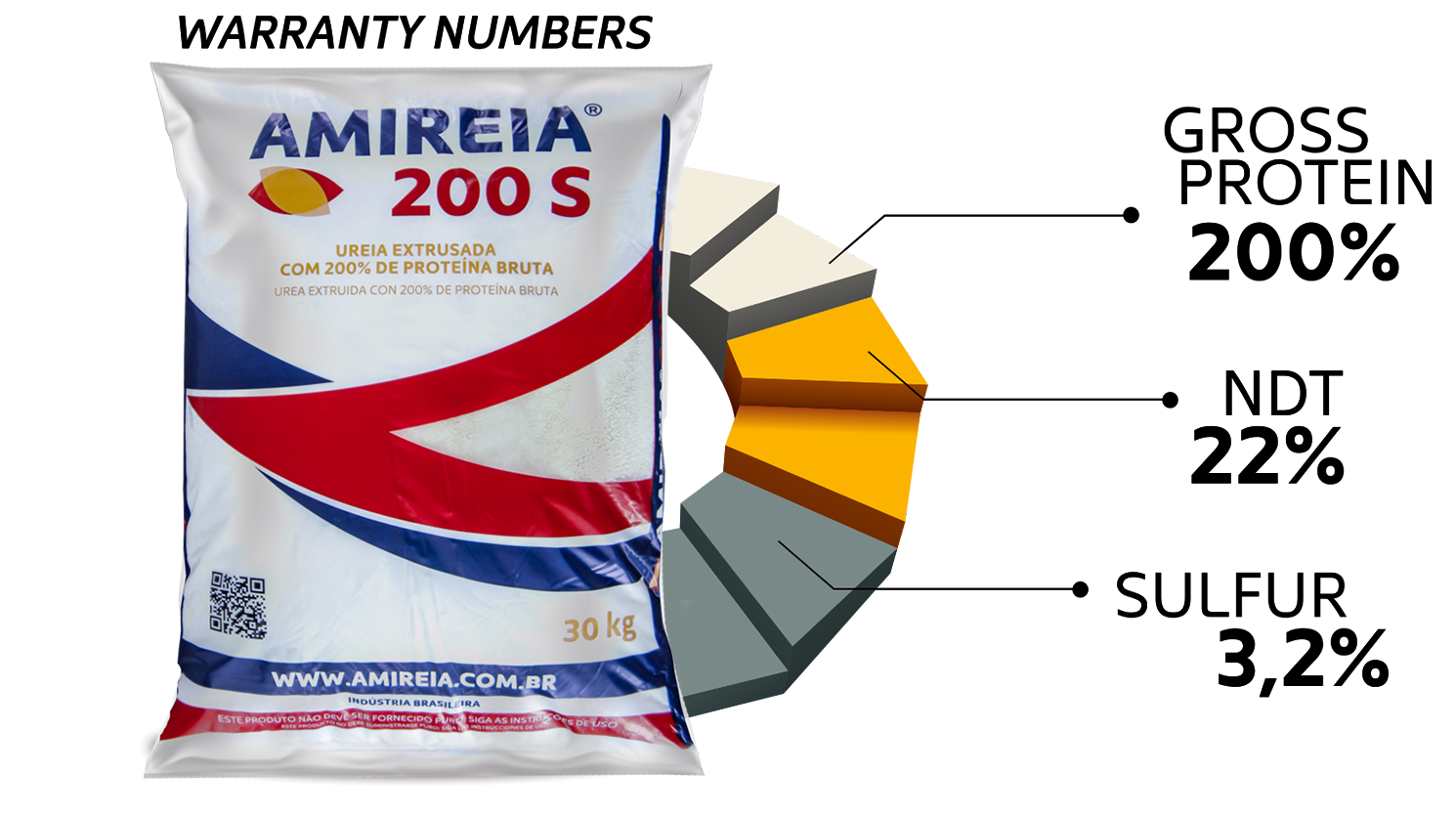 Advantages of Use

MORE COMPLETE
The only cattle urea extruded with starch and sulfur, which guarantees higher production of microbial protein and consequently higher rates of animal weight gain;
SLOW DEGRADATION
Degradation for 12 hours in the rumen ensures higher rates of microbial growth due to the perfect timing of the readily available energy (Extruded Starch) with a slow release of Nitrogen and Sulfur;
MINIMAL ENERGY EXPENDITURE
Amireia 200 S avoids the excess of ruminal ammonia, eliminating the energy expenditure of metabolization, which allows directing the energy generated for the maintenance and/or animals growth;
EXCELLENT PALATABILITY 
Due to its extrusion process in the starch, it has excellent acceptance by the animals, which guarantees the feed consumption even in higher levels of inclusion, eliminating the common rejection of the ureas on the market;
REDUCE COST
Amireia 200S is ideal for replacing protein meal, as it reduces the final cost of protein, feed and protein salts;
CAN BE PELLETIZED
 Amireia 200 S is the only protected Urea on the market that allows the palletization without losses of nitrogen and consequent fall of the protein content of the feed;
YEAR-ROUND USE
 Ideal for year-round use (Droughts and Waters), you can soak without risk of intoxication to the animals, even in higher percentages of NNP inclusion in feed;
SHORTER ADAPTATION TIME
Amireia 200 S is quickly adapted to cattle (7 to 10 days), which will allow to reach the apex of production in less time and cost, different from the common ureas of the market that require 15 to 30 days adaptation;
OPENS FORMULA SPACE
Due to its high protein concentration (200%), it opens up space in the formulations, allowing more flexibility to include other raw materials;
SUSTAINABLE
Amireia 200 S is better used to Ruminal Flora for the production of microbial protein, which considerably reduces the concentration of Ammonia or Urea in the urine, minimizing the contamination of the soil/environment;
MORE PROFITE
 Amireia 200 S allows to replace up to 50% of the protein soybean meal in the dairy cattle feed, lowering the cost of feed production without any change in the production and quality of the milk.